Established in 2008, Cityscape Travel Concierge is a boutique travel guiding service. Headquartered in Singapore, we provide highly personalized attention to the travel needs of the discerning traveler. At Cityscape, we believe the only way to see Singapore is to experience it for yourself. Get up close and personal with the many faces and facets of Singapore – let us be your guide to an authentically Singapore experience.
Meet Your Travel Concierges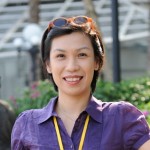 Lianne Tan
Trading in her corporate heels for comfy walking shoes, Lianne is on a mission to showcase Singapore's colorful faces; multi-cultural heritage; diverse lifestyles and neighborhoods to overseas visitors.
In her previous working life, Lianne spent over 15 years as a marketing and communications professional in the hospitality and technology sectors. Planning marketing budgets, working with journalists from around the world, and micro-managing executive-level customer events were part of her daily routine.
Now, her schedule revolves around the travel guiding needs of company CEOs and corporate VIP guests of billion-dollar companies. Ever mindful of the unique needs of each guest, Lianne has been involved in high-profile events like Singapore's F1 Grand Prix, Volvo Ocean Race 2009 and the APEC Summit 2009.
In her leisure, Lianne is a freelance writer who has contributed articles to magazines; writing media releases, newsletters and corporate brochures. In addition, her love for traveling has taken her to many cities in Asia Pacific, Europe, and she even had the opportunity to complete a work stint in the United States. Lianne is also keen to do her little bit for charity. She has been a key member of the Organizing Committee for the Charity Bike 'n' Blade (Charity BnB) event series from 2005-2009. Driven purely by volunteers, Charity BnB is a community-sporting charity event that has raised more than $1 million for the underprivileged in Singapore. Lianne has worked on various aspects of the event since its inception such as route planning, transport and accomodation arrangements, and other event-related logistics.
Lianne received her Bachelor of Arts degree (Pass with Merit) with double majors in Sociology and European Studies from the National University of Singapore. She is a licensed Singapore Tourism Board (STB) guide.
Cheong Yoke Chun, CMP
With more than 15 years in the Meetings, Incentives, Conferences & Events (MICE) industry, Yoke Chun's (or Yoke, as she likes to be called) extensive experience includes organizing and managing conferences, exhibitions, meetings and incentive programs in Singapore and across Asia Pacific.
During the course of her career, Yoke was Project Manager for multiple high profile events such as: the recently concluded APEC Summit 2009 Spouse Programs; the inaugural Volvo Ocean Race 2009 and SingTel Formula 1 Hospitality Program 2008; and the Singapore 2006 International Monetary Fund (IMF) World Bank Conference. Yoke's role during these high profile events was to design and create unique social programs that showcased the best of Singapore for the spouses of delegates, ministers and leaders attending these meetings. Her personal belief is that anyone working in the travel trade must have a sound understanding and deep appreciation of local cultures and lifestyles.
Yoke Chun holds a Bachelor of Business in Tourism Management from the University of Southern Cross and is a Certified Meeting Planner (CMP). She is also a licensed tour guide from the Singapore Tourism Board.